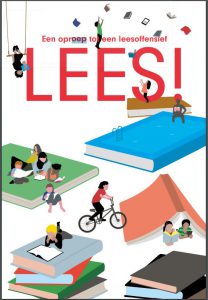 Een oproep tot een leesoffensief door de Onderwijsraad…Lees !
De Onderwijs raad heeft maandag 24 juni 2019 drie adviezen gegeven i.v.m. lezen. Je kunt er hier meer over lezen: ONLINE-Lees-Een-oproep-tot-een-leesoffensief
De raden doen drie aanbevelingen om een sterke infrastructuur voor leesmotivatie tot stand te brengen:
1) Voer een krachtig en samenhangend leesbeleid
2) Zorg voor een rijk leesaanbod
3) Breng een leescultuur tot stand
Ik val over het volgende advies: "De raad adviseert scholen ook om leesspecialisten binnen te halen. Om de kwaliteit van leesspecialisten en lees-bevorderaars te borgen is het van belang dat ze goede scholing krijgen en voldoende tijd voor hun taken."
Wat zijn CCI taaldocenten anders dan lees specialisten??!! Heb je een CCI taaldocent in huis, dan heb je ook een lees specialist in huis! 50% van een CCI curriculum bestaat uit lezen en dat is niet voor niks!
"There is massive evidence that self-selected reading, or reading what you want to read, is responsible for most of our literacy development. Readers have better reading ability, know more vocabulary, write better, spell better, and have better control of complex grammatical constructions. In fact, it is impossible to develop high levels of literacy without being a dedicated reader, and dedicated readers rarely have serious problems in reading and writing."
Dr. Stephen Krashen.
En lezen is niet gewoon een boek opengooien: in een CCI les lezen we heel gevarieerd, van pingpong reading tot reader's theatre en van hardop voorlezen en vertalen tot gallery walks en embedded readings en Textivate voor het PO en VO en nog veeeeel meer mogelijkheden. Wanneer gaat dat nu eens in het totale onderwijs doordringen??!!
En vooral ook: #readingisfun
Aansluitend hierop informatie over wetenschappelijk onderzoek "Why 'just reading' might make more of a difference than teaching reading" – waarom 'alleen maar lezen' een groter verschil zou kunnen maken dan 'het doceren van lezen'.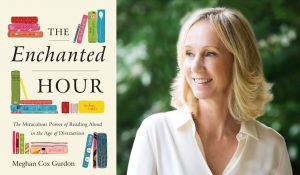 Met The CCI Read Club van het TPRS Platform gaan wij toevallig in juli en augustus een (Engelstalig) boek lezen over (voor)lezen:
The Enchanted Hour: The Miraculous Power of Reading Aloud in the Age of Distraction door Meghan Cox Gurdon.
Hieronder een overzicht van de inhoudsopgave:
(…)
1. What reading to children does to their brain (p8)
2. Where it all began: once upon atime in the ancient world (p36)
3. Reading together strengthens the bond of love (p54)
4. Turbo charging child development with picture books (p76)
5. The rich rewards of a vast vocabulary (p97)
6. The power of attention – and flying free (p119)
7. Reading aloud furnishes the mind (p142)
8. From the nursery to the nursinghome: why reading aloud never gets old (p170)
9. There is no present like the time (p185)
Afterword
(…)
Suggested stories
More suggested stories
Maakt deze inhoudsopgave je nieuwsgierig naar dit boek? Zo ja, zorg dan dat je het snel in huis hebt! We lezen en bespreken elke week in juli en augustus 1 hoofdstuk met de The CCI Read Club. Lees je mee?! Meld je dan snel aan!